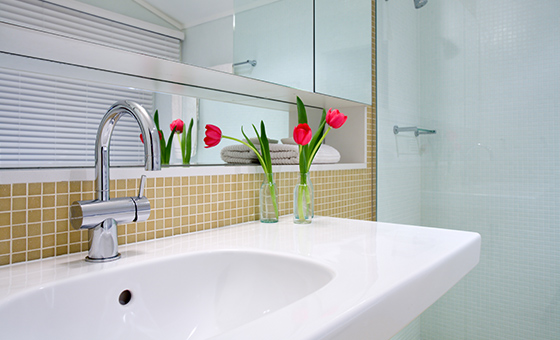 If you're looking for a top-quality plumber in Morley, you're in the right place. Our team at Complete Bathroom Solutions offers a wide range of plumbing services, ranging from leaky tap and toilet maintenance to hot water system installation. On top of this, we take extreme pride in our work and do everything in our power to ensure you're left satisfied with the finished job.
Our Morley plumbers also work in all surrounding suburbs such as Noranda, Beechboro, Dianella, Kiara, Bedford, Embleton, Bayswater, Bassendean, Mount Lawley, Balcatta and Bedford.
We've been working in the region for some time now, and we've quickly developed a reputation as one of the top-rated plumbing businesses around. Come to us if you're looking for a plumber who is:
– Punctual. We're always on time, and we strive to complete every job in a timely manner. This makes things easier for us and better for your wallet. Everyone wins.
– Skilled. Our team is composed of a carefully selected group of experienced plumbing professionals. Everyone we employ is carefully vetted to ensure they have the correct skills and experience to become an asset to our team.
– Careful. We approach every job with caution and set out a clear gameplan before commencing work. This reduces the risk of accidents and/or costly mistakes.
– Caring. Over the years, we've come to understand just how important our customers are. After all, we'd be nothing without you. Because of this, you will find us always ready to listen and address any concerns you have.
But above all, we value a job that's done right. We won't ever compromise the quality of our work in an attempt to cut costs or finish faster. That's just not the way we work.
We Take Pride in Our Work Throughout Morley
The Complete Bathroom Solutions team cares about their work. We take pride in completing every job in line with the top industry standards, and we're not scared to go above and beyond what's expected to ensure you're happy with the end result.
To ensure this is always the case, our team is highly trained and made to understand just how important you, our clients, are to us and our business. Our reputation confirms this, and we'll be extremely surprised if you can find someone who has been unhappy with our work in the past.
Complete Bathroom Solutions Offers a Full Range of Plumbing Services
Here at CBS, we're happy to be able to offer a complete range of residential plumbing services across the region. A few of the things we regularly work on include:
Hot water systems – We're often called out to install or fix hot water systems. In cases like this, we'll get the job done as fast as possible. Don't worry, we understand that a lack of hot water can be annoying at best.
Leaking toilets – Stop putting up with a leaking toilet and let our team of friendly plumbers get it sorted. Fixing a toilet leak is often a very simple process, so don't be scared to call us and get a quote.
Dripping taps – Similarly, we can quickly identify the problem and fix leaking taps or pipes, regardless of their location, size or age. Get the problem sorted before it becomes a major issue.
General plumbing problems – If you have any other plumbing problems not listed here, the chances are that we can help.
This is by no means an exhaustive list of our services. For example, we also complete full bathroom renovations and install new fittings like toilets and baths.
Speak to Our Team Today!
Get your plumbing issues fixed by speaking with our Morley team today. We're available at your convenience and will respond and address your problems as soon as is feasibly possible.
You can reach us via phone or email, so stop hesitating and get in contact now!