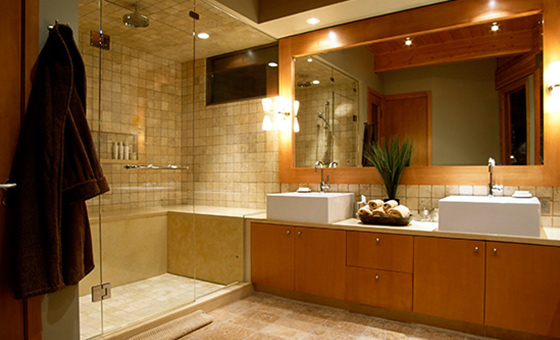 At Complete Bathroom Solutions, we have the skills and know-how to deliver top-quality bathroom renovations throughout Scarborough.
It doesn't matter if you live in a small apartment or a coastal townhouse, we've got you covered. Every job we complete is finished in line with our professional service guarantees, which means you are certain to be happy with the result.
In the end, reputations don't lie. We can claim to be the leading bathroom renovation company in the area as much as we want, but it's our impeccable reputation and the steady stream of satisfied past customers that we've left behind that really speak for us.
Our Bathroom Makeover Solutions Are Fast and Efficient
There's nothing worse than working with a slow, inefficient company that takes weeks to get anything done. That's why we do everything in our power to ensure we're in and out of our house as fast as possible. Some of the steps we take to ensure rapid bathroom renovations include:
– Creating a detailed bathroom design plan before work begins.
– Ensuring the entire project is carefully planned out so that each team is free at the appropriate time.
– Constructing a logical workflow that includes what is done when and by who.
– Working alongside you to ensure your requirements are clear so we don't waste time redoing work.
At Complete Bathroom Solutions, we understand just how frustrating it can be to not have full use of your bathroom for a significant stretch of time, so you can rest assured that we will work as fast as we can.
We Offer Complete Bathroom Makeover Services in Scarborough
The CBS team prides itself on its ability to offer complete start-to-finish bathroom renovations. We believe that we're one of the leading bathroom renovation companies in the region, and our reputation confirms this.
To begin with, one of our bathroom design specialists will sit down with you and figure out exactly what you want. We will ask you about your budget, what sort of renovation you want (simple makeover, full renovation or even demolition and start from scratch) and whether there are any particular materials or fixtures you want.
Once we've put together a detailed design plan, it's time to get to work. We complete everything in house, which means there's never any risk of waiting for contractors or other slow third-party workers. We have teams for:
Plumbing – As you can imagine, plumbing is key to successful bathroom makeovers. Our plumbers are highly skilled and promise to deliver lasting results that you won't have to worry about for decades.
Plastering – If necessary, our plastering experts can create a smoothly plastered finish that will transform your bathroom into something you previously only dreamed of.
Electrical – Electrical work is crucial during bathroom work, and our team of qualified electricians will ensure your electrics are safe and in line with the relevant safety regulations.
Tiling – No bathroom renovation is complete without quality tiling, and we excel here. For starters, we can provide advice on the type and amount of tiles for your project. On top of this, our tilers always delivery impeccable results without so much as a smudge of grout out of place.
Joinery – Our professional joiners have the skills to deliver an industry-leading finish that our competitors can only dream of offering.
Painting – This is crucial to ensure your bathroom makeover gets the finish it deserves. Our painters are highly skilled and great at what they do, and we know you'll be impressed.
Our Scarborough bathrooms team also work in all surrounding suburbs such as Trigg, Karrinyup, Doubleview, Wembley, City Beach and Wembley Downs.
Get in Contact With Our Team to Find Out More!
You can find out more about our comprehensive solutions and find out why we're one of the leading bathroom renovation teams in Scarborough by getting in contact with our team. We're always happy to have a chat, and if you decide to use us, we can get the process started without wasting any time. Give us a call today!