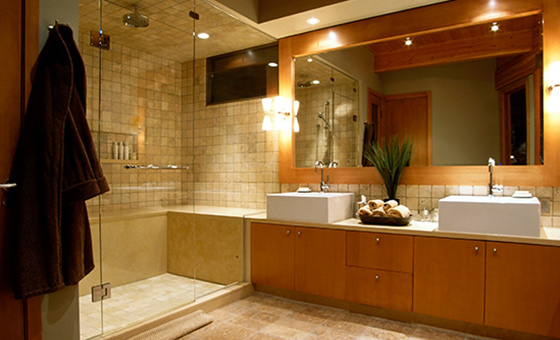 Complete Bathroom Solutions provides top of the range bathroom renovations throughout Dianella and the surrounding parts of Perth. Our team of experienced renovation experts is committed to excellence, and we're proud to be able to offer high-quality bathroom makeovers at extremely competitive prices.
As a top-rated bathroom renovation company, our reputation is important to us. We've been working in the area for some time now, and since we began, we've completed numerous successful projects for hundreds of local residents.
If you want to work with a friendly bathroom renovation company who is committed to top-quality service and extremely competitive prices, we have you covered.
Why Work With Complete Bathroom Solutions in Dianella?
Why should you work with us at Complete Bathroom Solutions? What sets us aside from our competitors and puts us in a position where we can claim to be one of the best bathroom makeover businesses around?
● We employ the best tradespeople in the industry. This lets us offer premium renovation solutions without worrying about the quality of our work. We always deliver unparalleled, flawless finishes.
● We pride ourselves on our high-quality workmanship. Like the best craftsmen out there, our team takes extreme pride in their work. This means that every job is completed to the best of their ability and finished in line with our company standards.
● We're friendly and approachable. There's nothing worse than working with tradespeople or companies that are unfriendly and hard to talk to. With us, you won't have any problems asking us questions or querying our approach.
● We're committed to providing affordable service. As your local Dianella bathroom renovation experts, we're fully committed to providing premium service at highly competitive prices. After all, why should you have to pay a fortune for something that really isn't that hard?
As you can see, everything we do, we do for you. Our customers are crucial to our business, and we will always do everything in our power to keep you and your family happy and comfortable.
Complete Bathroom Solutions Covers Every Aspect of the Renovation Process
Unlike other companies who rely on outside contractors to complete certain parts of the renovation process – often slowing the whole job down – we use our own in-house contractors for most work. During the renovation process, we'll take care of:
● Electrical work, including running new wiring, installing lights and adding anything else necessary.
● Plastering to ensure you're happy with the finished job.
● Joinery to deliver the extremely high-quality finishes that we've become famous for.
● Tiling because there's nothing worse than poor-quality tiling and grouting to botch-up a good job.
● Plumbing because, as you know, this is the crucial part of bathroom makeovers. Without good plumbing, your bathroom will cause all sorts of problems in the future.
● Painting to ensure you get the premium finish you both expect and deserve.
The other advantage of employing our own in-house teams is that we can complete jobs much quicker than most of our competitors. We never have to wait for slow contractors or other workers, and every job is completed according to a strict schedule.
This means you will be kept out of your bathroom for the shortest time possible, and your normal life will be able to resume in no time at all.
Our Dianella bathrooms team also work in all surrounding suburbs such as Westminster, Mirrabooka, Noranda, Nollamara, Morley, Yokine, Menora, Inglewood and Bedford.
Speak With Our Friendly Team for More!
If you would like to find out more about our complete bathroom renovation solutions and our commitment to delivering industry-leading work, all you need to do is reach out to our friendly customer service team. We're available at your convenience, and we can even help you with bathroom designs if necessary.
Give us a call today!