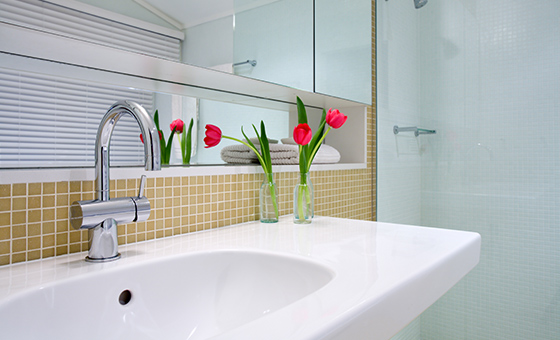 At Complete Bathroom Solutions, we're your local plumbing experts throughout Joondalup and the surrounding parts of Perth. We provide a range of premium plumbing services, and our team of experienced plumbers has the skills and know-how to keep your water flowing and drains unblocked – regardless of your problems.
Our Joondalup plumbers also work in all surrounding suburbs such as Beldon, Burns Beach, Connolly, Craigie, Currambine, Duncraig, Edgewater, Greenwood, Heathridge, Hillarys, Iluka, Joondalup, Kallaroo, Kingsley, Kinross, Marmion, Mullaloo, Ocean Reef, Padbury, Sorrento, Warwick and Woodvale.
CBS has been working since 2014, and we've developed a clear, efficient workflow to make it easier than ever to get general plumbing issues dealt with. We cover everything from hot water system installation and maintenance to unblocking toilets – there's no plumbing job we won't take!
We Provide a Wide Range of Plumbing Services Throughout Joondalup
Our team is highly trained, licenced and insured. We provide a full range of plumbing maintenance and other services throughout the region, including:
General plumbing – Once we've worked out exactly what you need, we'll assign the best-suited plumber from our team to your job. Our general plumbing services cover everything from installing new taps and faucets to replacing corroded pipes or even replacing your kitchen sink. If you think it's related to plumbing, the chances are that we can fix it.
Hot water systems – We have years of experience installing and repairing hot water systems. If you're having issues with your hot water, give us a call immediately. We understand that there's nothing worse than not being able to get a hot shower, so we'll address your problem as soon as possible.
Dripping taps – A lot of people don't realise how much water a dripping tap wastes. Over the course of a year or two, a slow drip can actually cost you a lot of money. Our team can help you repair dripping taps by replacing the tap washers, installing new taps or performing other maintenance as necessary.
Leaking toilets – If you've ever walked into a poorly-maintained toilet, you will know just how bad the smell can be. Even a small leak coming from the wrong place can be disgusting and can even pose a serious health risk. We can troubleshoot and fix toilet leaks of all shapes and sizes without breaking the bank.
New toilets – If you decide to get a new toilet, it's always best to get it installed by a professional. We can help you source and install new toilets of all shapes and sizes while disposing of the old one.
New baths – We also offer full bath replacement services, leaving your bathroom looking as good as new when we're finished. Speak to our team to find out more if you need a new bath.
Once again, our plumbing services aren't limited to those outlined above. If you have a problem, don't hesitate to speak to our team to find out how we can help.
We Offer High-Quality Plumbing Services That Don't Break the Bank
At Complete Bathroom Solutions, we're committed to providing affordable plumbing solutions without destroying your bank balance. Our team of highly experienced plumbers is good at what they do and will always work efficiently, completing jobs fast and in line with the top industry standards.
On top of this, every plumber we employ understands the importance of high-quality customer service. They will do everything in their power to ensure you end up with the finish you deserve.
Speak To Our Team for More Information
Find out more about our general plumbing services by reaching out to our Joondalup team at your convenience. We're always happy to answer your questions and concerns, and we're available to deal with a wide range of plumbing emergencies and other jobs.
Stop hesitating and get in touch via phone or email today and let us solve your plumbing problems.