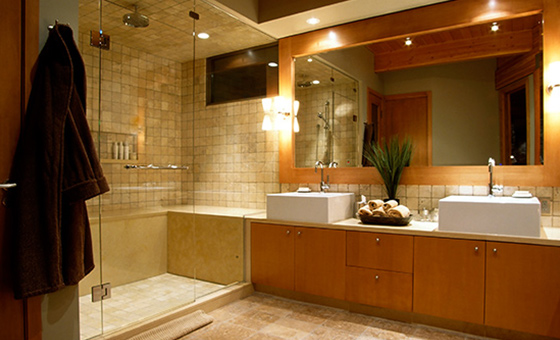 Finding a reliable bathroom renovations expert can be difficult, but at Complete Bathroom Solutions, we've got you covered. We service the entirety of Joondalup and the surrounding suburbs with our high-quality bathroom renovation solutions.
We employ a team of experienced tradespeople, allowing us to provide full bathroom makeover services – including everything from the initial design and demolition to electrical, plumbing and finishing work.
Why Do I Need a High-Quality Bathroom Renovation Company in Joondalup?
It's extremely important to make sure you use a proven, reliable bathroom renovation company, otherwise you might end up with expensive problems in the future. If you try and cut corners and save costs by employing an inexperienced or unqualified company, you could run into any one of a number of problems:
– Water leaks which, if they are under the floor or behind walls, can cause significant damage before they are even detected.
– Poor quality finishing which will detract from the overall aesthetic appeal of your new bathroom.
– Cheap fittings which simply won't stand up to the test of time. Imagine having to renovate your bathroom again after just a few years!
When you work with Complete Bathroom Solutions, you won't ever have to worry about these problems or any others like them.
We Provide Complete Bathroom Renovations Across the Region
Here at CBS, we're proud to be able to offer a full bathroom renovation service. There's nothing worse than having to deal with separate companies when you're trying to organize a renovation. When you work with us, we'll take care of everything from design to construction, and even ongoing maintenance.
For starters, we provide a complete bathroom design service involving an initial consultation and ongoing talks to ensure you get the design you want. To begin, you will sit down with a member of our dedicated design team for a chat, telling them exactly what you want, what materials you would like to use and anything else that could be important.
Following this, we will go away and come up with a complete design outlining the things you've told us. If you've specified a budget, we will do our best to remain within that. Once you're satisfied with the design plan, we'll proceed with the bathroom renovation.
We Provide Complete Bathroom Makeovers
At Complete Bathroom Solutions, we understand that there's nothing worse than having to wait for weeks for your bathroom renovations to be complete. Because of this, we provide complete in-house renovation services covering:
Plumbing – This is obviously one of the most important parts of bathroom renovations, and our dedicated plumbing team will ensure that it's done right.
Plastering – We also have a professional plastering team to ensure your walls are finished with a smooth, good as new look.
Electrical – It's crucial to install high-quality electrics in wet bathroom spaces, otherwise you run the risk of electrical failure and/or serious injury.
Painting – There's nothing worse than getting a full bathroom makeover done, only to have it spoiled with a bad paint job. Our in-house painters will provide professional finishing touches to add the magic to your project.
Tiling – A bathroom renovation isn't worth anything if the tiling isn't done right, and we'll take care of that too.
Joinery – The perfect finish will be achieved by our professional, highly-trained joinery team who have skills that are unrivalled amongst our competitors.
Speak to Our Team Today!
If you would like to find out more or start planning your next bathroom renovation, you can get in touch with our Joondalup team. We're available at your convenience to help you plan your makeover, and our friendly customer service team is even happy to just have a chat and answer a few questions if necessary.
Our Joondalup bathrooms team also work in all surrounding suburbs such as Beldon, Burns Beach, Connolly, Craigie, Currambine, Duncraig, Edgewater, Greenwood, Heathridge, Hillarys, Iluka, Kallaroo, Kingsley, Kinross, Marmion, Mullaloo, Ocean Reef, Padbury, Sorrento, Warwick and Woodvale.
Get in contact by calling or emailing us now!